http://petergraycartoonsandcomics.blogspot.com/ https://www.facebook.com/groups/1432139416803249/
Monday, 18 June 2018
http://kazoop.blogspot.com/2018/06/boom-100-per-cent-goal-reached.html
https://www.indiegogo.com/projects/the-power-pack-of-ken-reid-books/x/18858241#/
Thursday, 7 June 2018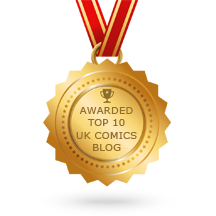 I would like to personally congratulate you as your blog Peter Gray's Comics and Art has been selected by our panelist as one of the
Top 10 UK Comics Blogs

on the web.
I personally give you a high-five and want to thank you for your contribution to this world. This is the most comprehensive list of
Top 10 UK Comics Blogs
on the internet and I'm honored to have you as part of this!
We'd be grateful if you can help us spread the word by briefly mentioning about the Top 10 UK Comics Blogs list in any of your upcoming post.
Of course my comic blog is now mostly on facebook But there are plenty of comic posts here to look through..
Sunday, 3 June 2018
When did you discover Ken Reid in comics?
I discovered Ken Reid when I started collecting British comics some 10 years ago. I remember first seeing his Odhams strips on a couple of blogs – yours and Lew Stringer's in particular. I was instantly fascinated and decided I wanted nothing less than complete runs of Frankie Stein, Jasper the Grasper, Queen of the Seas, Dare-A-Day Davy and The Nervs. Original WHAM!, SMASH! and POW! comics weren't easy to find and acquire but I was lucky to pick up a large collection in pristine condition from a Comics UK Form member, I also remember winning a large joblot on eBay. A seller in Australia and a dealer in the UK helped me fill quite a few remaining gaps. All the pages that will go into THE POWER PACK OF KEN REID - the collected edition that I am now doing, have been scanned from my collection.
Did Ken influence your cartoon work?
When I was a freelance cartoonist in my twenties, I had only seen one page of Ken's work, and it was a World-Wide Weirdie (The Whacky Hand) in an early issue of Whoopee! that a pen pal from the UK had sent me long ago. That particular issue did influence my comic work and looking at it now, I can see traces of Terry Bave, Robert Nixon, Mike Lacey and Ken Reid – I vividly recall being very impressed by the crowd of space monsters surrounding the World-Wide Weirdies drawing by Ken!
What is your favourite Ken's comic character and why?
I like Frankie Stein because I find the strip to be really funny. Faceache is also great – the idea of a frustrated kid with the "super power" to monsterise his face and body offered Ken vast improvisation possibilities in his favourite genre of comic horror.
Ken Reid is also a good writer of his work..using languages..mannerisms..and black humour did Ken have some comic heroes..writing heroes...tv...radio influances?
I don't know much about that but he was a lifetime admirer of Disney, and I think this shows in his Fudge the Elf strips. He liked to watch
The
Outer Limits
- an American TV series that was broadcast in the UK in 1963-1965. He drew inspiration for his Jonah in the Beano and Queen of the Seas in Smash! from a few TV and radio shows of the time, and they are mentioned in the biography of Ken Reid for the years 1964-1969 (Odhams period) included in THE POWER PACK.
How long did it take to get the rights to print the Ken Reid book?
It didn't take very long, and the people in charge at Time Inc (UK) Ltd. were easy to work with. It took me considerably longer to find out who the rights belonged to in the first place…
How did you collect so many comics as you are abroad? When did you start?
I started collecting in 2007 when the name of Whoopee! comic – the one that my penfriend from the UK had sent me when I was 10, accidentally popped
and I looked it up on eBay. Being abroad is an inconvenience because of postage costs, besides, some eBay sellers are unwilling to post abroad.
Anyway, I am now the proud owner of quite a large collection, including many complete runs, mostly those published by IPC – Whoopee!, Cor!!, Shiver and Shake, Monster Fun, Cheeky Weekly, Krazy, Jackpot, School Fun, Wow!, Jackpot, Jet, Smash! (the IPC run), Scorcher, Misty, Valiant. My collection of Buster is now just 3 issues short of the complete 40-year run! I prefer IPC to DC Thomson, but I also have quite a large collection of the Beano and the Dandy from the '50s and the '60s, while my collection of the two titles from 1970 till the last newsprint editions in the late '80s is in the form of bound volumes. I am also still looking for 2 issues of Sparky to complete my set for the title…
Thanks for talking to me, Peter, and for helping me to spread the word about my crowdfunding campaign for
THE POWER PACK –
the reprint collection of Ken Reid's complete work in WHAM!, SMASH! and POW! comics.
To view and support the campaign, please
visit-