How I draw cartoons in different stages. First the brain storming...any idea is jotted down even if it won't be used. I often do little rough sketches I don't often write it. Just let your mind run wild...what can a hook do..a line...a fish...?
Next I choose the best jokes and draw it up here in pencil. I use a rubber to change things around. Sometimes I have to start again from the beginning if there is too much to rub out. As I don't want to smudge the paper too much. When I'm happy it will reach this stage.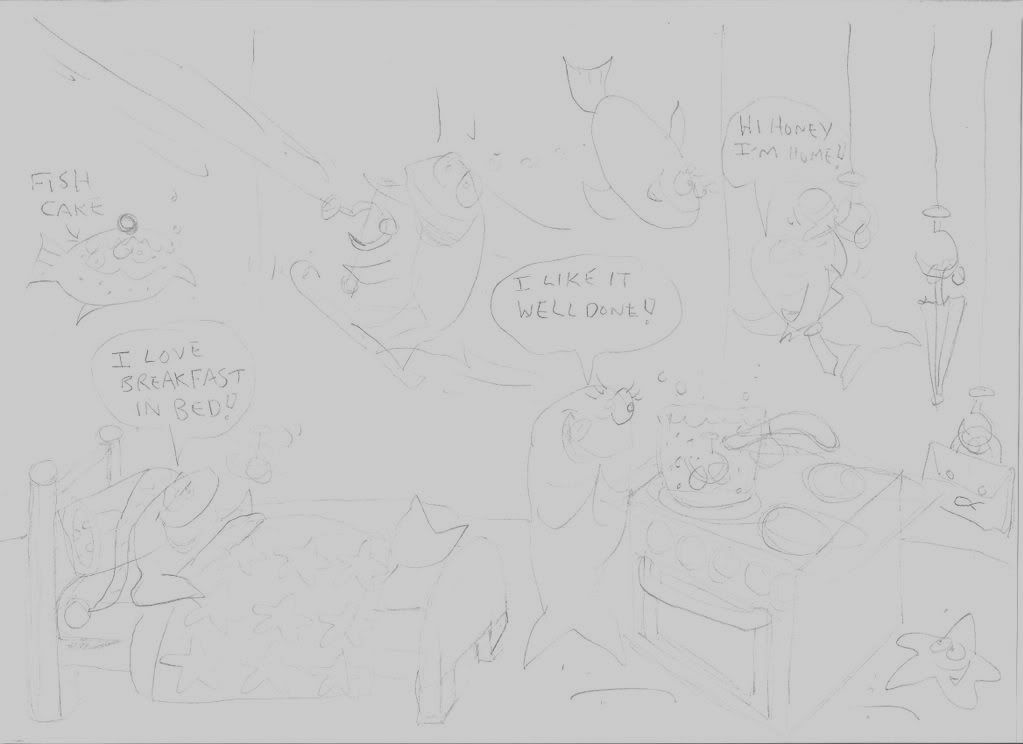 A clearer image to show the pencil line as requested.
At this stage changes can still happen. The cooker switch I want to change to show its on. The hat the fish hangs up will be retouched by a mouse as I didn't draw it big enough. The cooker was made less wider to show space between this and the suitcase. The rings on the cooker will be moved by mouse to line it up more. The wording for
I like it well done
will be moved closer together. The lines and wording will be thickened up by clicking on it with black. I draw with a thin pen which I prefer though the line can be too thin.
I'll show the next stage shortly. When the pen line and changes are done and is ready for colouring.
The finished piece.
I try and make the colours show up, not too dark, so the line or drawing don't get lost. Also balancing the colours...e.g orange, brown on left side and right side.
So heres Fishy Tales 2.