such a crisp black line.
Faceache original artwork (1971) by Ken Reid for Buster Xmas issue 1971
The Chef's apprentice at The Ritz overcooks the Xmas pud to prune size and persuades Faceache to impersonate a proper one until he can dash down to the supermarket for a ready-made replacement. Of course the chef returns early and covers him with sizzling brandy sauce and a well-placed jab of plastic holly - Chef runs for it as: 'Ze 'otel - she eez 'aunted' and the boys get Christmas dinner early …
Indian ink on cartridge paper. 22 x 16 ins
£180-220
From compalcomics-
World Wide Weirdies original artwork (1975) by Ken Reid for Whoopee! May 24 1975
'The Shock Rock Of Gibraltar'
Indian ink on cartridge paper. 12 x 11 ins
£120-150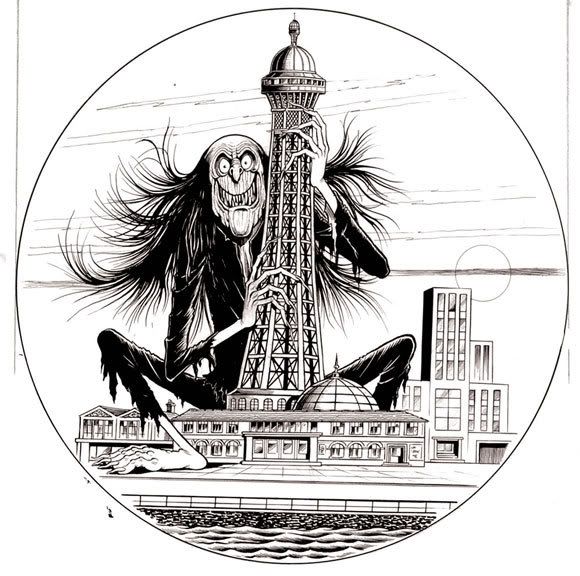 Robert Nixons Monster Fun holiday special cover..Kid Kong Just lovely the paint work. A very skilled steady hand.
how it was published..
http://www.comicsuk.co.uk/ComicInformationPages/TemplateCoversProper.asp?ImgIndex=../images/covers150/MonsterFun_90.jpg
Shiver and Shake annual cover by Robert Nixon..lovely the details in the tree.
How it was published...sure crops a lot off when you compare. Also darker colours.
You can buy original comic art at-
http://www.compalcomics.com/comics
to see more of Robert Nixons comic work go to my website-
http://uk.geocities.com/pjgrobertnixon/