The Giants from the Sea 653-677 (1965)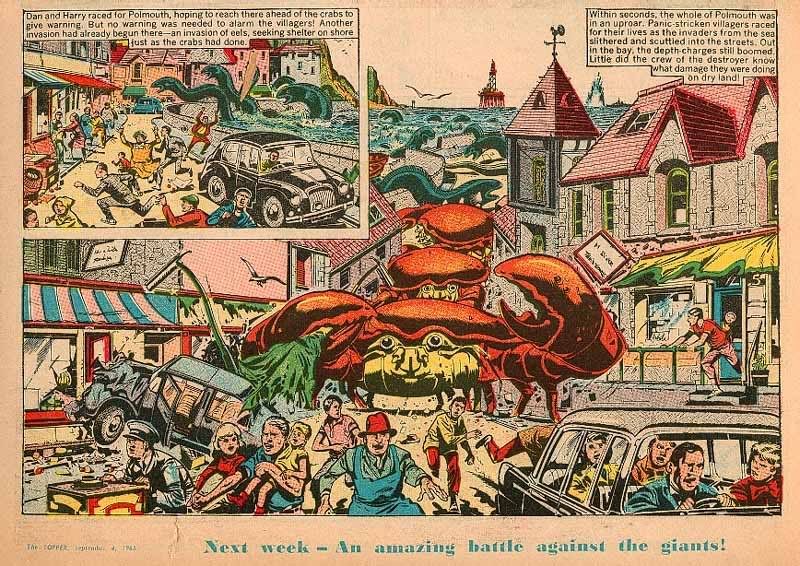 I am pleased, proud,and very, very chuffed indeed to include these following images: firstly,
I have to thank educated PHIL RUSHTON, aka 'Philcom55'
over on ace site COMICS UK......Phil placed these striking images on that site last year, but sadly they were lost during the notorious 'COMICS UK CRASH' that hit the site deeply early this year. (Also Geocities websites closing down!)
Thankfully, the resourceful COMICS FAN PETER GRAY tracked down these essential, evocative images recently, and I proudly present these 'BEEZER' gems which are a delight to behold..Quote from Spy at dennis the menace forum..
http://tiptopgolfy.proboards.com
Phil has also provided some Jellymen pictures by Ken hunter which I'll put up again..the last ones got lost due to geocities closing...that is why on my blog there are missing pictures..which I'm sorting it out slowly..
You can't go wrong with huge crabs on the rampage!!! What an amazing sight!!
Ron sure drew some great dramatic strips..
Both Topper and Beezer used their tabloid, colour pages to the full in the late 1950's and early 1960's whether it was for sci-fi, adventure or war-time strips like 'The Heroes of Paradise Road' or the great viking quest saga 'The Dragon's Teeth' both drawn by Ron Smith. In fact Ron Smith, to me, never bettered the work he did for the Thomson tabloid titles. Try to track down examples of either of the above or his adaptation of Jack London's 'White Fang' or his pirate strip 'Blood Brothers of the Spanish Main' and see what I mean! from Kashgar
from comicsuk forum..
http://www.comicsuk.co.uk/Forum/viewtopic.php?f=1&t=1241&start=75