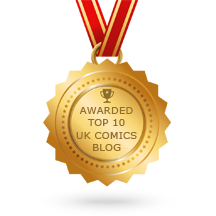 I would like to personally congratulate you as your blog Peter Gray's Comics and Art has been selected by our panelist as one of the
Top 10 UK Comics Blogs

on the web.
I personally give you a high-five and want to thank you for your contribution to this world. This is the most comprehensive list of
Top 10 UK Comics Blogs
on the internet and I'm honored to have you as part of this!
We'd be grateful if you can help us spread the word by briefly mentioning about the Top 10 UK Comics Blogs list in any of your upcoming post.
Of course my comic blog is now mostly on facebook But there are plenty of comic posts here to look through..